Introducing Violet Eyewear
WHO WE ARE
Founder and visionary, Dr. Sylvia Jones, was working her way through a library one day when the idea for Violet Eyewear started to sparkle in her mind. She had worked as an optometrist for years but began dreaming of a business where choosing your new glasses was fun, interactive and less clinical.
She envisioned a group of friends sitting together in their living room, sipping on their favorite drinks and choosing designer glasses together – turning the necessity of selecting suitable glasses from an everyday event into a fun, cheerful and memorable party shared with friends.
Bringing the designer glasses you love right to your living room. Violet Eyewear is the first company of its kind.
Violet Eyewear is not only a great experience for our customers, but we have also created wonderful opportunities for aspiring entrepreneurs. We have designed a system for consultants to grow their own business within Violet Eyewear, giving them the freedom to choose their own working hours, receive guidance to developing their business, their skills and growing with Violet Eyewear. Dream big and contact us today to find out how we can help you develop your business and an independent income with us.
Community and caring for each other is at the core of our business. From making our customers feel great, to developing business opportunities for our consultants, we care for everyone at the heart of our company. However, our drive to give back and to keep building a worldwide community goes further afield. For every pair of glasses purchased, one is donated to someone who needs them most. Due to the cost of glasses, 2 billion people are living without glasses that they need. Everyone deserves the gift of sight, and so we are fighting back – one pair of glasses at a time.
Our Buy One, Give One program has been hugely successful in helping those in need of eye care and we want to keep building this success. When you choose Violet Eyewear, you are choosing the best for you, and the best for everyone else, too.
Whether you're searching for a new pair of reading glasses, a stylish pair of sunglasses for your next vacation, or any eyewear accessories – skip the lines, skip the hassle, choose convenience, choose fun, choose giving back with Violet Eyewear.
Go Every Wear with Violet Eyewear.
April 2020, In light of the COVID-19 pandemic and resulting medical supply shortages, we donated protective eye wear to front line workers in our hospitals. We want to thank all the medical workers for their sacrifice and let them know that we truly appreciate them.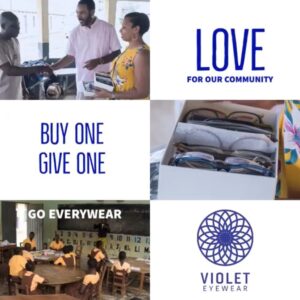 In July of 2019, Violet Eyewear made our first international glasses donation through our Buy One Give One Program. We donated glasses to a school in Ghana, Africa.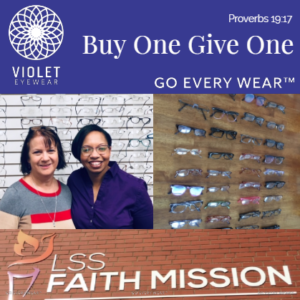 Thank you to those who have sown a seed into this new company. The L in VIOLET is Love for our community. We show this through our Buy One Give One Program. Your orders allowed us to make our first donation, of 40 frames, to those in need. Our donation was made to Faith Mission, a homeless shelter in Columbus, Ohio.
If you can dream it you can do it.
Walt Disney