Violet Eyewear was founded as a creative, fun, new way to buy eyewear.
Violet Eyewear is more than just eyeglasses, it's a family of like-minded individuals pushing to achieve our best life. At our company VIOLET stands for:
VICTORY over your life
INSPIRATION to dream big
OPPORTUNITY for financial freedom
LOVE for our community
EMPOWERED to lead
TALENTS identified, developed and shared
Our products include designer frames, sunglasses, and an array of fun accessories. We make multiple pairs of quality eyewear accessible to the whole family.
We understand that eyeglasses are a form of economic empowerment that allow people to go to work, care for their families, and most importantly create new ideas.
Our goal is to improve the quality of life for those in need through the donation of eyeglasses and an emphasis on ocular health. Through our Buy One Give One program, you will help us provide assistance those that need it most.
Thank you for choosing to join the Violet family, with your new frames and lenses you'll fit right in!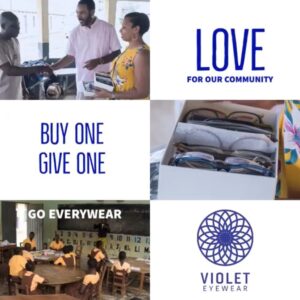 In July of 2019, Violet Eyewear made our first international glasses donation through our Buy One Give One Program. We donated glasses to a school in Ghana, Africa.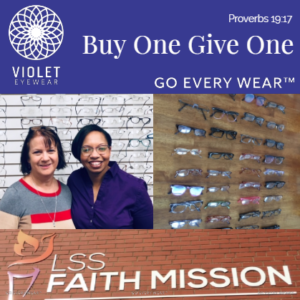 Thank you to those who have sown a seed into this new company. The L in VIOLET is Love for our community. We show this through our Buy One Give One Program. Your orders allowed us to make our first donation, of 40 frames, to those in need. Our donation was made to Faith Mission, a homeless shelter in Columbus, Ohio.
If you can dream it you can do it.
Walt Disney