Violet Eyewear is a new and unique opportunity combining the high demand eye wear industry with the far reaching world of direct sales. Don't miss your opportunity to be a part of the team.
Become a part of the Violet Family
Benefits of Joining
Flexibility: Control your schedule.
Financial Rewards: Earn additional income and free product.
Fashion Eyewear & Accessories: Be a part of a unique line of products.
Easy and fast – Join Today!
Starter Kits
Includes everything you need to get started for your new eyeglass business!
Starter kits only $99.99 plus shipping and handling
Display Case
2 Mirrors
8 Frames
10 Catalogs
and more!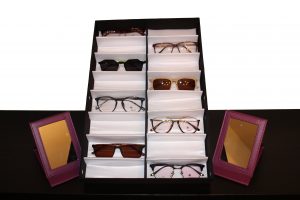 Shipping and handling charges and sales tax will also be charged.  Violet kit subject to change based on available inventory.  Residents of North Dakota are not required to purchase a Violet kit.
**Representations made about income should not be considered typical or guarantees of your     potential earnings or profits as a Violet Eyewear Consultant. Actual earnings can vary significantly depending on the time committed, skill level and other factors. Not everyone will  achieve the   represented  level  of income. Such amounts are before expenses, if any.
Items in the Catalog and any associated pricing may be subject to change.