Its time to create your own destiny...
25-35 % Commission,
Build a A Wealth Stream, and
Create a
Clearer Vision For Your Life.
Finally, there is an opportunity to monetize your social media and leverage your connections.
Help others look great and have fun. All while improving their vision and the vision of other, through our Buy One Bless One program.
Enjoy the allure of the fashion industry , and fabulous eye wear, all while providing, the personal attention and relationship building that customers long for. 
How amazing it would be working from anywhere in the world, using Violet's Eyewear's Online Boutique to save time, save money, grow a business, and create a wealth stream. 
Become a Vision Ambassador.  
All the guidance and coaching you need to successfully start your eye wear business. 
The Violet Eyewear Experience Decoded. Enjoy full access to our proven system of selling eye wear online and building a visionary team. Use your online boutique to scale your business and increase your wealth stream. 
SOCIALITE KIT INCLUDES the following for only $99.99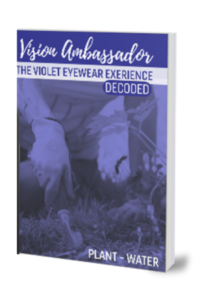 Violet Eyewear Experience Decoded
Violet Eyewear Experience Decoded is the Vision Ambassadors guide to unlocking the potential of Violet. Learn how to plant, water, sprout and bloom into a fruitful online business!
Learn how to use Millionaire Faith to increase your guest totals, build your team, find new business, and much more. Decode the experience and unlock the power of Violet! Your Success is Possible!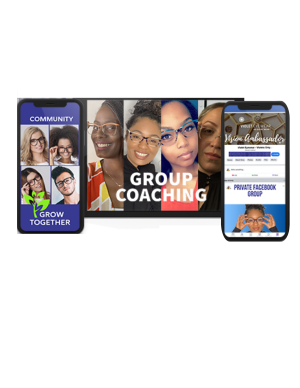 Group Coaching, Private FaceBook Group, Violet Eyewear Community
Get all attention you need to start and grow your eye wear business. Engage in group coaching, learn from the experts on how to grow your business.  Exclusive access to our Private Facebook Group.  Ask your questions, share your success, and receive feedback in real time. 
Become a member of our inspirational Violet Eyewear Community.  Tell your story, build relationship, learn from our vibrant leaders. Free great knowing that for every pair you sell one is donated to bless someone in need.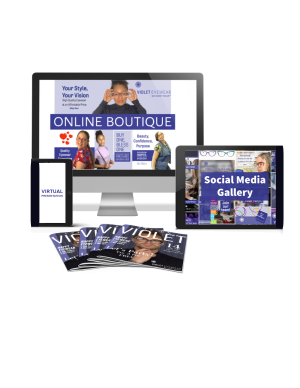 Violet Eyewear Online Boutique, Social Media Gallery, Eye On Violet Subscription
Complete your online presence with Violet Eyewear's Online Boutique.  Increase your income as send your customers to your very own eye wear  boutique. 
Scale your business using our social media gallery to market your business and get new customers. 
Enjoy our monthly Eye On Violet Subscription.  Stay connected to the Violet News, recognition, contests, and new products. 
THE TRENDSETTER KIT INCLUDES THE SOCIALITE KIT, PLUS
2 Eyeglasses
2 Fashion Sunglasses
2 Reading Glasses
2 Eye wear Accessories
Deluxe Eyeglass Display Case
Special Bonus: 2 guest mirrors
For Only $299.99
The trailblazer kit includes the socialite kit, plus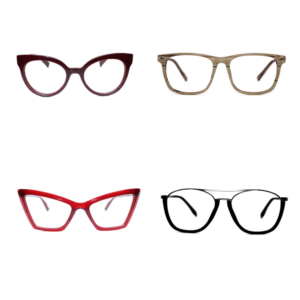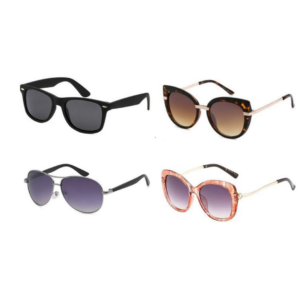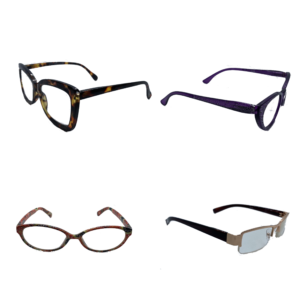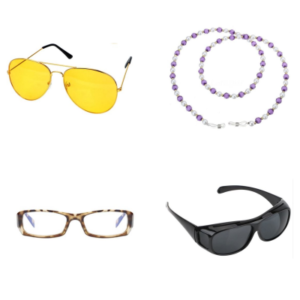 4 Eyeglasses
4 Fashion Sunglasses
4 Reading Glasses
4 Eye wear Accessories
Deluxe Eyeglass Display Case
Special Bonus: 4 guest mirrors
For Only $499.99
Violet Kits
The first step for any new Consultant is to complete a Violet Application and purchase a Violet "Socialite," "Trendsetter," or "Trailblazer" Kit (don't worry they are all a good choice).  The "Socialite" kit gives you access to valuable training and sales materials for just $99.99 plus tax and shipping. No commissions or bonuses of any kind are paid on Violet Kits.
Shipping and handling charges and sales tax will also be charged.  Violet Kit subject to change based on available inventory.  Residents of North Dakota are not required to purchase a Violet Kit.
**This illustration is only for educational purposes and is not intended to serve as a guarantee of income. Success in this business requires hard work, dedication and good sales skills. The average participant in this business earns between $500 and $2,000 per year. Some earn less while some earn much more.
Items in the Catalog and any associated pricing may be subject to change.